The term "cash back" likely brings to mind credit card rewards, but there's also a second definition in reference to receiving cash back during a credit card transaction at a retail store, as well. Each of these can have an impact on your financial life if used correctly and at the right time, but you must know how each works before that can happen.
What Is Cash Back?
The most commonly recognized style of cash back is what you have likely seen advertised as cash back credit cards. This specifically refers to earning a certain percentage of your credit card purchases back as cash rewards. However, cash back rates vary widely, as do the categories that they apply to.
You usually won't see credit card cash back rates higher than 5%, while 1% is the typically minimum you will earn. Cash back categorization is significantly more complex though, with a merchant category code (MCC) system being the main organizing force.
MCCs run the entire cash back industry, as they ultimately decide how each purchase you make is classified. These designations coincide with cash back rates set by the issuer of your card. For example, you could use your card for a $50 dinner at a steakhouse, which has a "restaurant" code. If your card offers a 2% cash back rate on all spending at restaurants, you'd earn $1 cash back.
Familiar alternatives to cash back include point- and mile-based programs, though many cardholders are partial to cash back. Cash back affords cardholders an independence that is ideal, since you can redeem it for nearly anything.
Popular Cash Back Credit Cards
Discover, American Express, Mastercard and Visa all have cash back rewards credit cards available for prospective cardholders. Each abide by their own set of regulations, though card issuers decide on cash back rates, promotions and bonuses. Chase, Wells Fargo, Citi and Capital One represent some of the most active card issuers on the market today.
Getting Cash Back at Retailers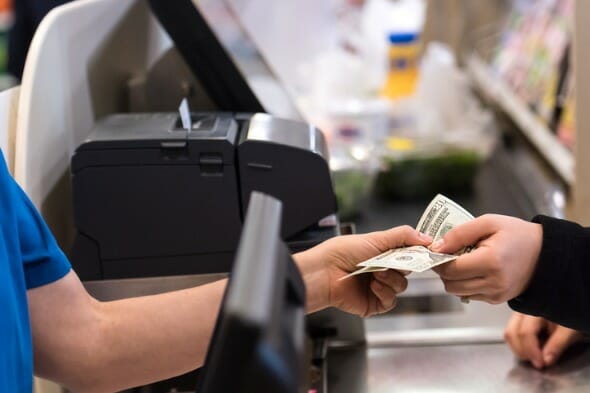 Picture this: you're buying some groceries on a Sunday morning, but know you'll need $40 cash to fill up your car with some gas later. You could swipe your debit card at the supermarket and then head over to the ATM. Or you could ask for cash back right from the cashier, eliminating the extra errand.
The above situation represents the alternative definition of cash back. It's ultimately the use of a cash register as if you were swiping your debit card at the ATM. When you request cash back from a cashier, your bank account will be charged the amount you asked for. This enables the funds to be pulled from your account so the cash can be placed in your hand.
Although this generally only applies to debit cards, there are a few exceptions that allow credit cards to see similar usage. Discover® allows cardholders to ask for cash back at more than 50 large retail stores without a transaction fee.
Tips to Help You Decide If Cash Back Is Right for You
If you're someone who wants freedom when spending their credit card rewards, you may prefer cash back to a points-based reward system. However keep in mind that cash back rates are sometimes less than those in point-based programs.
Many credit cards offer redemption bonuses if you redeem right to your bank account. So anyone who does most or all of their banking with one specific bank could see major cash back perks. Just be sure to check whether your bank offers this benefit.